The ECHL hosted its 20th All Star Game in Loveland, CO on Jan 23, 2013. Fortunately, the Colorado weather cooperated and many fans were able to attend both the Skills Competition (held the previous day) and the ASG.
The ECHL began in 1988-89 with five teams in four states and has grown to be a coast-to-coast league with 23 teams in 16 states in 2012-2013.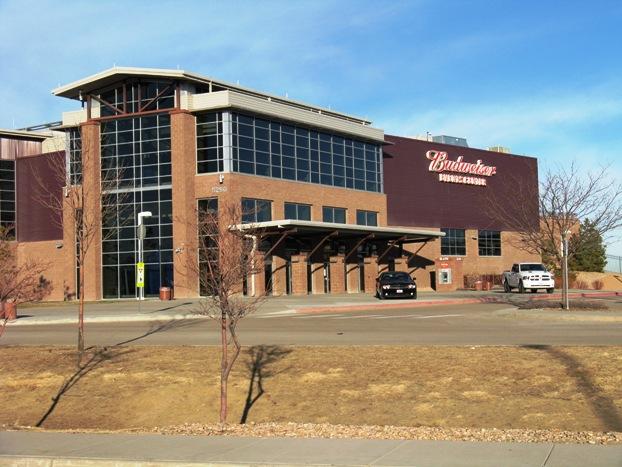 Here's the main (and only) entrance into the Budweiser Events Center. Parking is $5 and there's plenty of it.
During the All Star events, the Budweiser Events Center (BEC) had a display of exhibits from throughout hockey history including former ECHL teams as the Greenville Grrrowl, PeeDee Pride, Johnstown Chiefs, Richmond Renegades, Columbia Inferno, Mississippi SeaWolves, and more The Stanley Cup, the Kelly Cup, and other notable trophies from the Hockey Hall of Fame were available to view and photograph.
When visiting Loveland, CO be sure to take a stroll and check out the Chapungu Sculpture Park. Bring your walking shoes, camera, and imagination as you stroll through this park.
Skills Competition
Both the skills competition and the ASG included the Colorado Eagles (tenants of the Budweiser Events Center) vs. the rest of the ECHL All Star Teams.
The skills competition included the accuracy shot, rapid fire, skills course, fastest skater, hardest shot, and breakaway relay.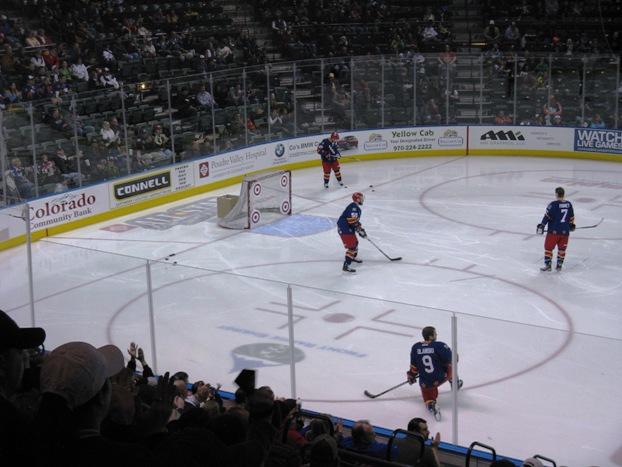 Here's a photo of the accuracy shot competition. A player needs to knock down each of the 4 foam bulls eyes in the fastest time.
The Colorado Eagles won the Skills Competition this ASG earning a total of 10 points to the All Stars 5 points.
All Star Game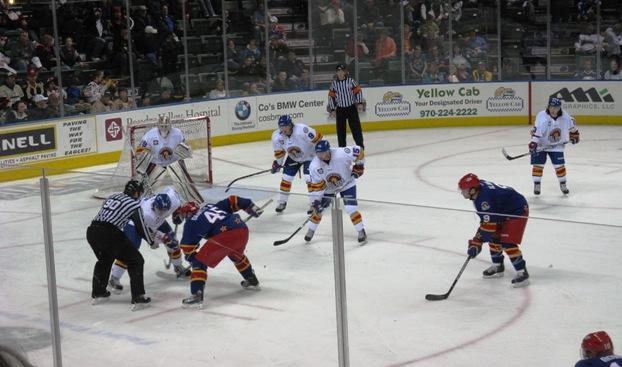 Face off between the All Stars (in white) and the Colorado Eagles (in blue).
Final score: All Stars 7; Eagles 3. Shots on goal for the Eagles is pretty high. They put up a good effort in front of their fans.