Avon, OH - All Pro Freight Stadium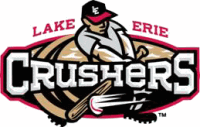 Lake Erie Crushers
Frontier League
All Pro Freight Stadium
2009 Baseball Boulevard
Avon, OH 44011
440-934-3636
Date Visited:
August 9, 2009
Ease of getting in/out:
Excellent. It was right off the interstate. Parking lot had some paving to do but it was fine getting in and getting out after the game.
Customer Service:
Average
Music Level/Announcer:
As usual, music was played while announcer was trying to tell something to the fans and fans like me couldn't hear over the music.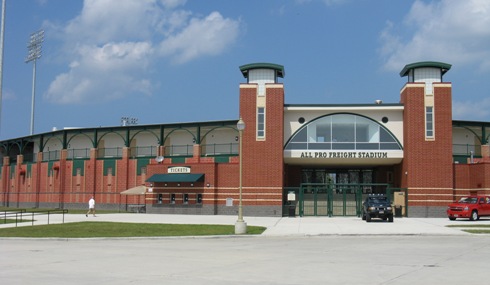 Here's the main entranceway into All Pro Freight Stadium.
I would recommend putting some trees and benches in the front of the stadium. That would make it just a little more appealing to me.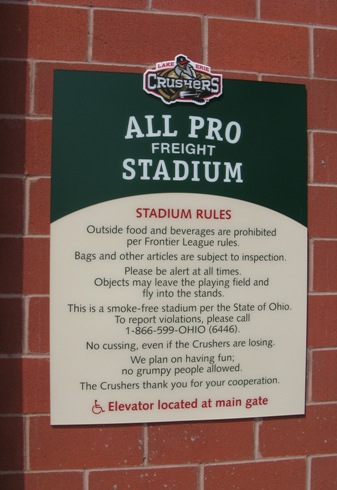 This was kind of cute.
No grumpy people allowed.





Other Notes:

This was the inaugural season for the Crushers
They were the 2009 Frontier League Champions; a nice feat in their inaugural year
It's the first stadium I've been to where they offered a AAA discount on tickets
The Frontier League has two umpires
Lots of fans had cow bells. Reminded me of a hockey game.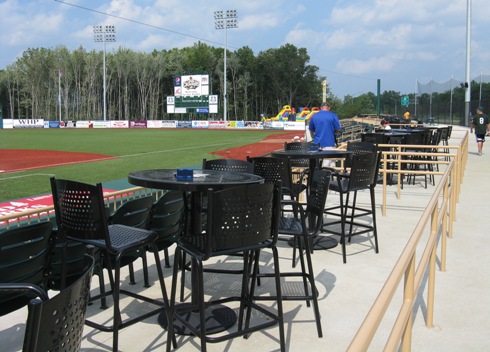 There are nice tables on the concourse one could sit at. I couldn't figure out whether anyone can sit there or whether you needed special permission. A fellow stadium visitor mentioned they are reserved seating.

Beyond the right field wall, you can see a big yellow tubular playground for kids.

You can also see the bullpen on the field.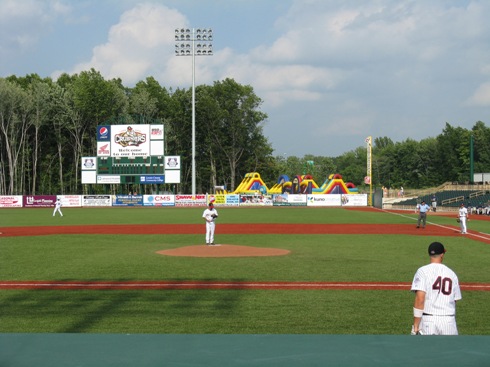 Here's a shot from the third base side.
A better view of the playground area.
You can see some of the relief pitchers sitting in the bullpen.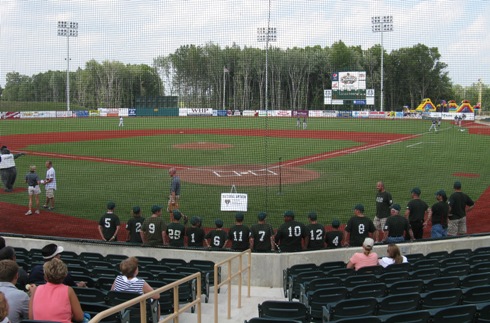 Here's the view of the field from behind homeplate.





Ohio Page
Home Page