Lakeland Flying Tigers

Joker Marchant Stadium
2125 N Lake Ave
Lakeland, FL 33805
(863) 686-8075
Lakeland Flying Tigers
Harry's Seafood Bar & Grille

The Lakeland Flying Tigers are a baseball team in the Florida State League (Class A Advanced League).
Date Visited: May 5, 2013


Here's the ticket booth behind home plate.

Tickets were Box Seats $6 ($5 for seniors/children; General Admission $5 ($4 for seniors/children)

Can't beat that for a Sunday afternoon game.

One unusual thing happened at the game I attended. A pregnant lady got her belly autographed by visiting team Juniper Hammerheads outfielder, #23 Ryan Rieger. I wonder if that was a first for him?



Liked:
Prices
Downtown Lakeland
Minimal gimmicks - just what is expected at a minor league and no more. It's mostly about the game. Perfect!
Free parking
Left field berm area
Scoreboard - provided lots of stats for both the home team and the visiting team. Speed pitch too.
The game. Mostly a pitching dual.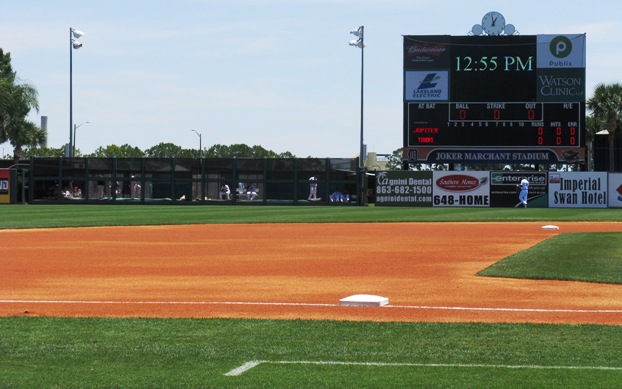 Infield. I got a ticket first row, right next to the dugout on the third base side.

The bullpens are in center field next to the scoreboard. Different. Not bad; just different.

Real grass; real dirt.


Didn't Like:
love bugs - flying all over the place and on my body and up my nose; gave me the heebie-jeebies for the rest of the day
$2 for a program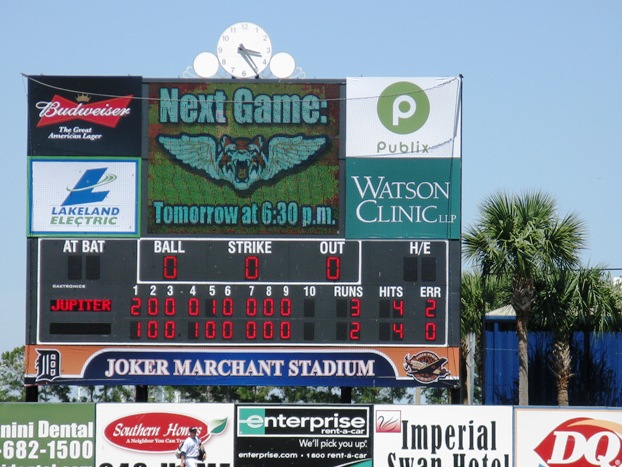 Scoreboard. Game started at 1pm and finished at 3:25pm. And, it was a great game to watch.
Home Page
Florida Page


Posted: August 18, 2013