Ogden, UT

Ogden Raptors
Pioneer League
Rookie of LA Dodgers
Lindquist Field
2330 Lincoln Ave
Ogden, UT 84401
801-393-2400

Dates Visited:
June 28-29, 2009
Music Level/Announcer:
Announcer was excellent. He talked with the crowd. Stated starting line up clearly and slowly. WHO?!? Had to be there. Music was stopped when player announcement changes were called during the game. It was spectacular!! And fun!!
Customer Service:
It was just fine.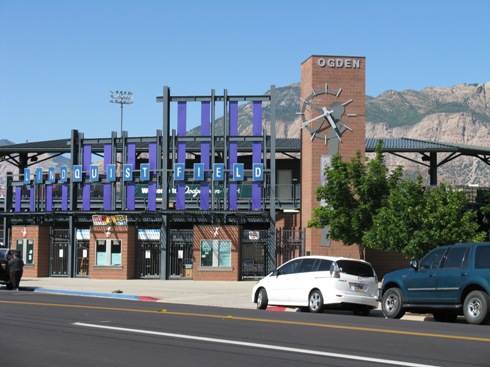 Here's the entranceway to Lindquist Field. The stadium is located right downtown Ogden. There were several hotels within walking distance. There's even a train one can take up from SLC to just a few blocks from this field. I drove.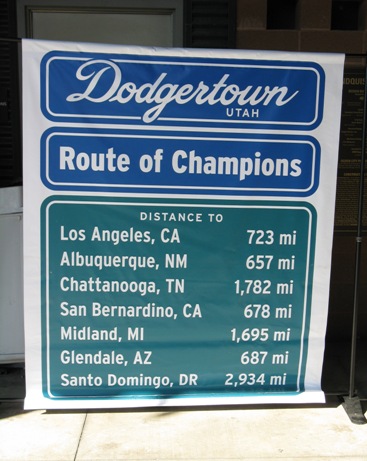 Distances to all the Dodgers affiliates from Ogden.

In order:

MLB - LA Dodgers
AAA - Albuquerque Isotopes
AA - Chattanooga Lookouts
High A - Inland Empire 66ers
Low A - Great Lake Loons
Rookie - Arizona League - Dodgers
Dominican Summer League - Dodgers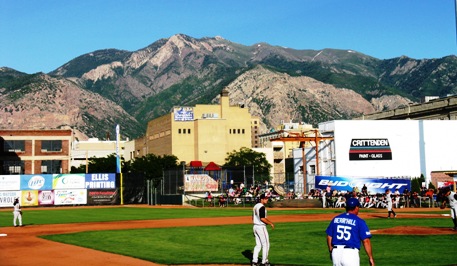 One of the most beautiful things about this stadium is the view of the mountains.
This photo shows how 'downtown' the stadium is.
It also shows the bullpens on the field (in front of the blue BudLight canopy) and a little grassy berm down along the first base side.
Oh yeah, and the mountains.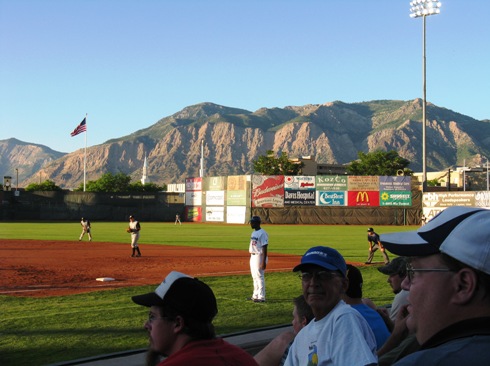 It didn't matter if you sat on the first base side, third base side, or behind home plate.... All you saw was mountains.
There was also a 'jut' out in center field just to the left of the Budweiser sign. It was 350' there but 387' at the end of the billboards in center field.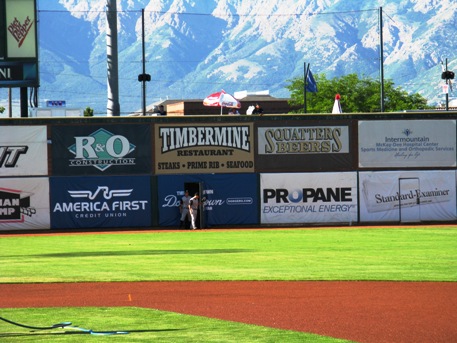 This was something I had not seen before. The players came out on to the field from a doorway in the outfield.
See, just below the Timbermine Restaurant ad.
It looks like there's a door by the Standard Examiner ad, as well. I don't remember anyone walking on to the field from that door.

Other Notes:

One of the games was THE PERFECT minor league game....hecklers, announcer talking with the crowd, some errors, Casper Ghosts first win of the season (Rookie team of the Colorado Rockies), mountain views.
The other game I went to was not so good - nothing to do with the Raptors organization but more the area in which I was sitting.... third base side; not far from the field. There was way too much activity in front, behind, and next to me in the fan base. I think I must have gotten up 50 times to let folks pass.
Lots of sea gulls - maybe from Salt Lake?
Two umpires in the Pioneer League.
DO GO to this stadium if you're in the area. Not only is it beautiful but the entertainment is fun without taking away from those of us who go to see the game. Very, very nicely done.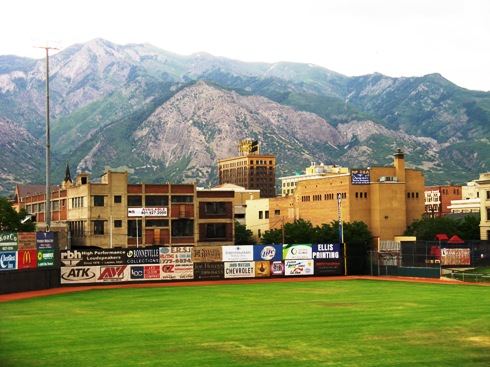 One last view of the field, the mountains, the downtown setting.

Ogden Raptors
Ogden Union Station
Historic 25th Street
Rooster's Brewing Company


Utah Home Page
Baseball Home Page