Orem, UT

Orem Owlz
Pioneer League
Rookie Affiliate of Anaheim Angels
970 West University Parkway
Orem, Utah 84058
801-377-BALL (2255)
Date Visited:
June 29, 2009
Announcer/Music Level:
I have no notes about it being good or bad. Therefore, I'll assume it was acceptable. I remember the entertainment guy being okay. He wasn't too loud, was personable, and didn't get in my way.
Customer Service:
It was fine.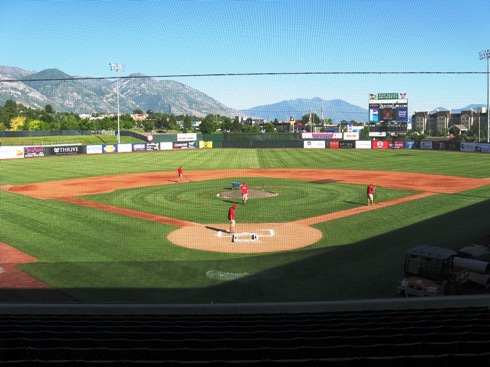 Here's the view from behind home plate. Another Utah stadium with a fantastic view of the Wasatch Range.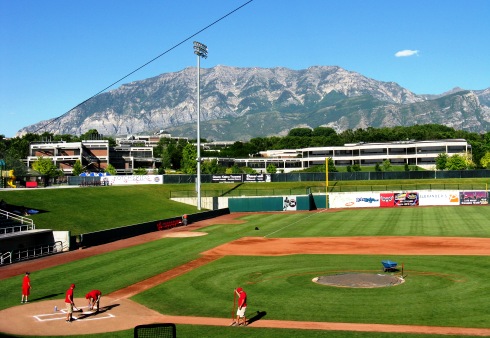 The better view was from the first base side.
In this photo, you can see the bullpen on the field beyond the third base line, the grassy berm where individuals can bring blankets, enjoy the game, and hope for a foul ball or home run.
Also noted on the leftfield wall is Nick Adenhart's retired number.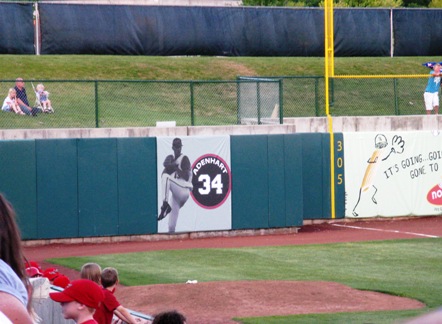 Here's a close up of Nick's retired number.
You can also see part of the pitching mound in the bullpen and some fans starting to relax on the berm.

Other Notes:

The Orem fans were not hecklers; but more whiners (at least the ones around me).
There was a hamburger eating contest.
The pitch speed was displayed. I note that because not a lot of minor league stadiums do that.
Baseball cards were handed out.
Names and stats of the players were shown on the scoreboard. Real time stats for the Owlz too!
Team store was called 'The Perch'.
The lighting got a bit difficult after the sun had set. I had trouble reading my scorecard. The only lights were the field lights.
Since the ballpark is actually located in Utah Valley University, no alcohol is served.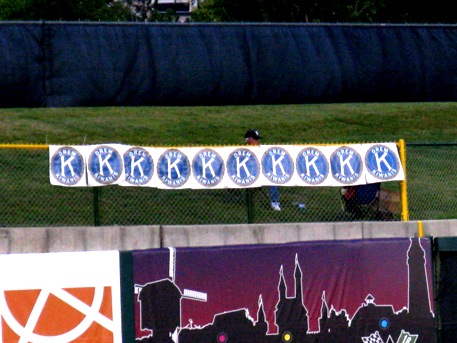 There ended up being 13 strikeouts for the Owlz pitchers.

For each strike out, $10 is donated to a local charity. That's nice.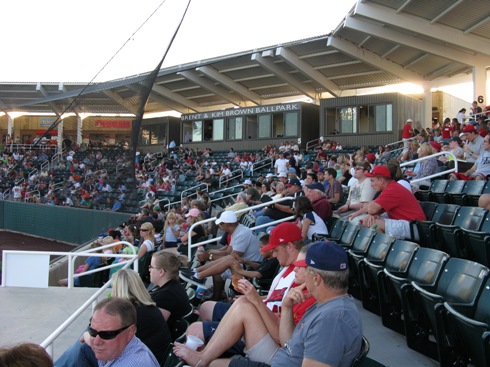 Here's the seating area. The area with the glass windows (some open, some closed) is where the announcer and other officials sit.

I had trouble finding the name of the stadium. In the photo above, it says Brent & Kim Brown Ballpark. The Owlz website calls it the 'Home of the Owlz'.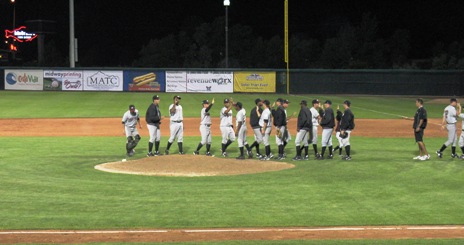 The visiting team, the Chukars, won this game as noted by the congratulatory handshake. Every single one of the Chukars wore hi-socks. They looked good.


I didn't really find a whole lot to do or see in Orem. There is Provo which is nearby but there wasn't a whole lot to see there either (walking, on foot). I'll post some links below to check out if you're in the area.
Orem Owlz
Utah Valley Convention and Visitors Center
Provo


Utah Page
Home Page