Salt Lake City, UT - Spring Mobile Ballpark

Salt Lake Bees
AAA Affiliate of Angels
Pacific Coast League
Spring Mobile Ballpark
77 West 1300 South
Salt Lake City, UT 84115
801-350-6900
Other things to see/do in SLC:
Hogle Zoo
Heritage Park
Historic Temple Square
Salt Lake City Bee's
Utah Grizzlies (ECHL - ice hockey)
Visit Salt Lake City

Notes and Photos:

Dates Visited:
Jun 24-26, 2009
Customer Service:
It was fine.
Music Level:
Excellent! Not too loud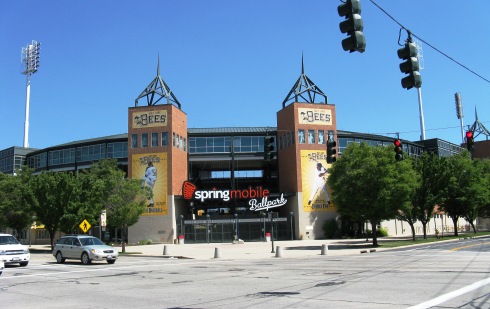 Here's the entranceway. The ballpark is in one of the downtown areas. It was formerly known as Franklin Covey Field. Think the stadium name changed this year (2009).
One can also take TRAX train/light rail to the stadium, which I did.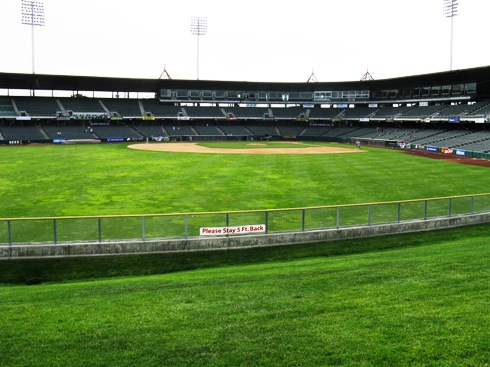 This was taken from the outfield looking in. There is a concourse one could walk around the entire field. Two levels of seating plus the 'boxes'. The concourse (food, drinks, restrooms, etc.) is between the first and second level.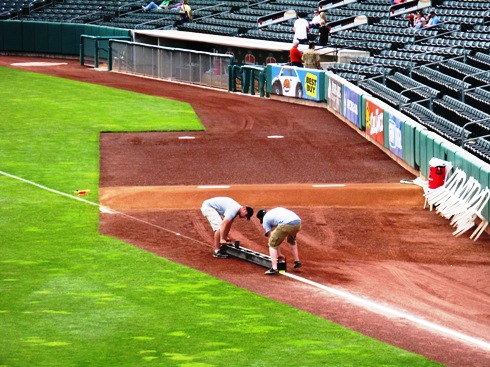 This was something I hadn't ever seen before.
Normally, to paint the lines, there would be a grounds crew member pushing a 2 or 4 wheeled paint marker a little bigger than a lawn mower.
Here, they had a cement slab and were banging the cement slab to push the paint on to the field to make the line. Then they'd lift the cement slab and place it farther down and do it all over again. Very different.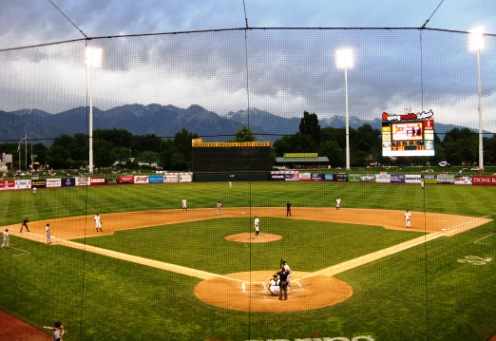 The field from behind home plate and the beautiful Wasatch Mountains.



Dugout, bullpens on the field, and grassy berm in left field. The yellow 'train' pictured on the left side of this photo on the concourse, drove kids back and forth from left to right field.

Some other notes:
Some nice promotions the games I went to: Dollar dog night and Thirsty Thursday - $2.75 12 oz. beer (even local brew)
Steps are wide and height is short. Easy to walk up.
Nick Adenhart's number clearly displayed.
Each individual from the 'Field of Dream' team had to announce themselves giving experience to kids at public speaking. Nicely done.
DAV night.
The one game I went to I learned that both Michael Jackson and Farrah Fawcett had passed away that day.
The mascot was quite annoying. He looked cute but he kept standing on the dugout blocking the view of the game.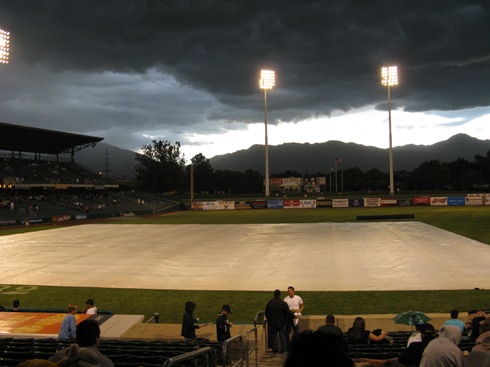 Uh ohhh.....rain storm approaching
Another nice view of the mountains.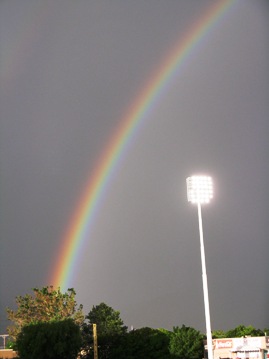 But, of course, one of nature's pleasures after a rain storm is the rainbow. This one was a 'full' one. My camera couldn't catch the entire arch of the rainbow but what I did capture is quite beautiful.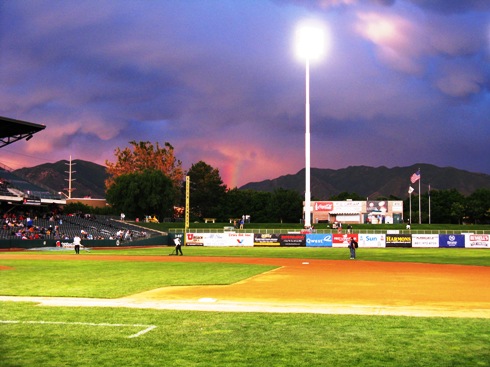 Just couldn't pass up sharing this beautiful view of the mountains, the sunset, and ballfield.