San Francisco - AT&T Park

SF Giants
SF Muni
San Jose Sharks (NHL)
San Francisco.com - a pretty decent tourist site


AT&T Park
SF Giants
National League
24 Willie Mays Plaza
San Francisco, CA 94107
415-972-2000



Dates Visited:
Sept 13 - 16, 2009

Ease of getting in/out:
Excellent! Take the Muni Metro Line N or T to Second and King. Stadium is right there. There're also ferries one can take from different points in the Bay Area.

Website:
I've frequently complained that all MLB webpages are the same now. Although the format for the Giants is the same as all others, it contains a whole lot more information for fans than many of the other major league teams. Nice job.

Customer Service:
Excellent.

Items of Interest

Lots of food selection
It's smaller and more cozy than it looks on TV
Tim Lincecum
Beautiful view of the Bay Bridge
Can take public transportation there (Muni)
It can get chilly so be prepared with several layers of clothing
Jon Miller is the radio broadcaster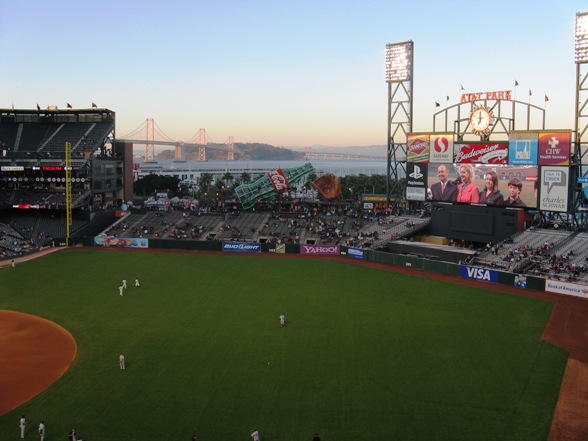 Here's the beautiful view of the Bay Bridge beyond left field.

This photo also displays the huge jumbotron/scoreboard the park has as well as the famous Coke bottle and glove.

The Coke bottle actually contains slides, which entertains the little ones.






Willie Mays Plaza

A wonderful tribute/memorial to those who lost their lives on 9/11/01.

The blue and red banners contained the names of all of those who died during that terrorist attack.

I was quite moved.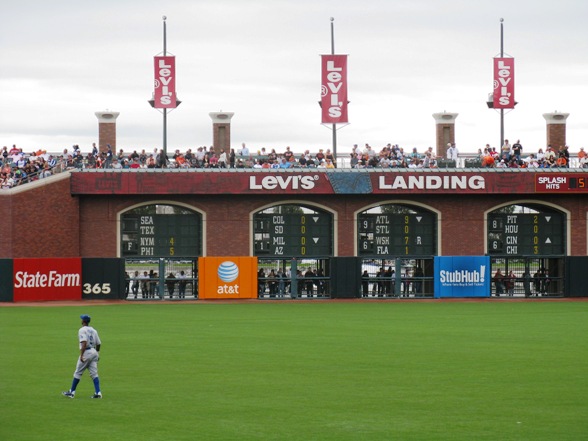 Levi's Landing

There's a walkway beyond (outside) the stadium out in center/right field.

There are open fences where those strolling along the marina and outside the park can stop and watch the game (no charge).

You can see those individuals displayed here under the out of town scoreboard.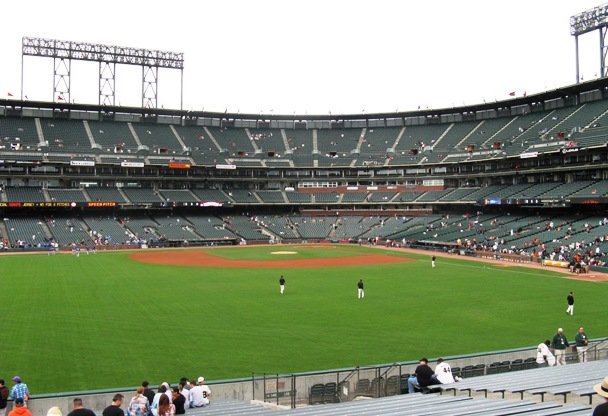 View of interior seating from center field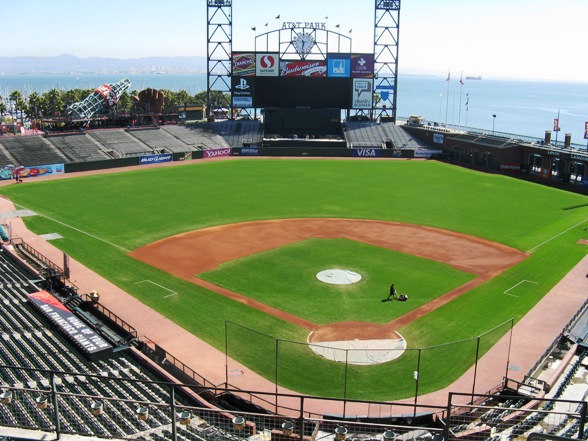 And from the exact opposite side of the stadium ...... a view from behind homeplate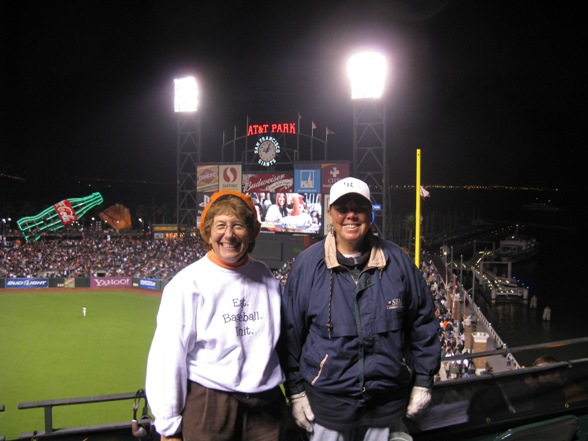 And, lastly, here're me and Barbara with the scoreboard, the Coke bottle, the glove, the bridge, and the stadium at night.

To my left - your right (I'm the one wearing the white Rockies cap) is McCovey's Cove where there are kayaks and other boats awaiting the next home run into the water.




On a side note, I met Barbara a year or so ago. We got to chatting. It turned out she loved baseball and visiting ballparks and also traveled by herself to enjoy that hobby.

Wow! There was another female out there with my same interests. Up until meeting Barbara, it was only men or couples I met who did that.

Barbara is very involved in Stitch N Pitch an organiztion that brings baseball and needlearts together.

Home Page

California Page