Bush Stadium

St Louis Cardinals


National League


700 Clark St


St Louis, MO 63102




Dates Visited: May 11 and 12, 2013

Recommended Hotel: Drury Plaza Hotel (walking distance to ballpark)

Official Website: St Louis Cardinals




Photo from behind home plate. You can see the arch, the old courthouse, and the other buildings of the downtown St Louis skyline.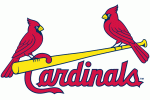 Likes:
The Cardinals fans. What a class act. They announced Charlie Blackmon (Rockies player) was making his MLB debut (he wasn't - but that's what was announced). The fans cheered. And, when Charlie got a home run later in the game, the fans cheered. How admirable is that?
A sea of red in the stands
Lots of merchandise at the souvenir shop. Have to go to the souvenir shop near the kids area to purchase socks as that's the only stand that has them
Can access the park by train (Metrolink)
Lots of memorials to Stan Musial who passed earlier on this year
It's right downtown near several attractions
Music volume is fine and there is minimal unnecessary noise between pitches




This is inside the clubhouse.
Baseball cards line the walls.
If you get a chance take a tour of the stadium. Show your AAA card and get $5 off the tour price.




Didn't Like:
Limited beer choices in the park. Mostly Budweiser (Anheuser Busch - get it?)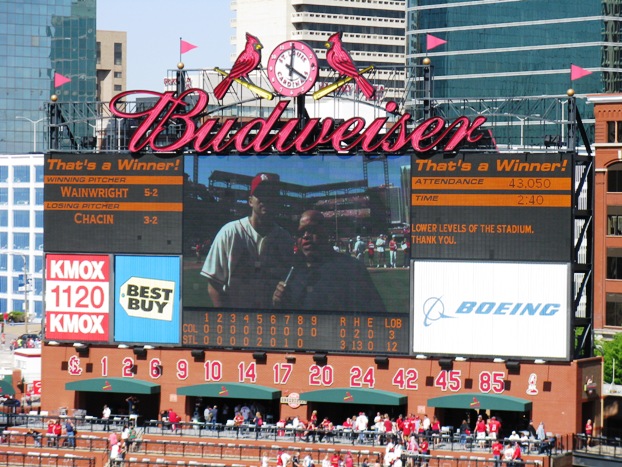 The scoreboard.
I saw two games here vs the Rockies. Rockies lost one game and won the other.
Lots of retired numbers on the bottom of the scoreboard.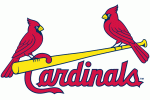 Final Notes: Though not my favorite stadium, attending a game here is my favorite regarding game day operations/event because of the classy fans.
Posted: Sept 8, 2013
Other Things to See/Do
Gateway Arch
Riverboat Cruises
Old Courthouse
St Louis Zoo
St Louis Blues (NHL)
Schlafly Brewery
Caleco's Bar & Grill


Home Page
Missouri Page