Tampa Bay Rays

American League
Tropicana Field
1 Tropicana Drive
St. Petersburg, FL 33705 Date Visited: May 6, 2013
Place to Stay: America's Best Inn
I loved my visit to St Petersburg; I did not enjoy my visit to Tropicana Field mostly because it was freezing cold inside the stadium. Read more under Likes and Didn't Likes below.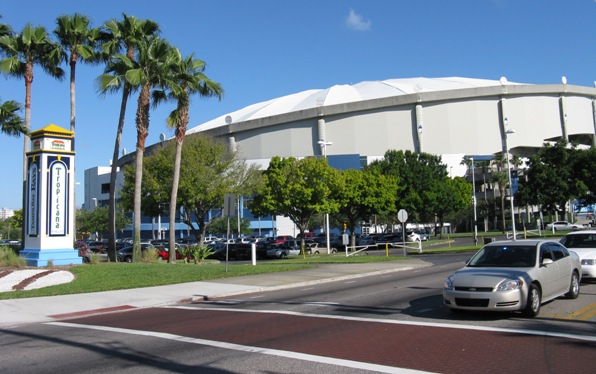 Here's the famous tilted roof of Tropicana Field.

There is a Looper Trolley one can take to get to the ballpark for 50 cents if staying near the downtown area.

The stadium has a Ted Williams Museum and Hitters Hall of Fame worth visiting.


Likes
Downtown and can take a trolley
Carnival atmosphere with games, historical murals and cartoons adorning the concourse walls
Touch Tank
Saw Evan Longoria hit a grand slam
Customer service rocked
No 'make some noise' prompts; fans did it all by themselves



Out in center field on the first level, one can visit the Touch Tank and be able to touch rays as they swim in a tank.
I spent a lot of time here, touched the fish, and even received a sticker indicating I 'I met a Ray today'.
It is interesting, educational, and a great form of entertainment at the ballpark.




Didn't Like
AC on way too high to be comfortable to watch a game. This game was one of the very, very, very few games I've ever left early just because I couldn't get warm
No merchandise shop or stand on third level in which to purchase a sweatshirt
Got lost and turned around and had difficulty with finding or figuring out where (what level) I was and where I wanted to go, so navigation through the concourses isn't easy.
Usage of cowbells by fans. It was just too much and I got a headache which may have been a side reason I left early.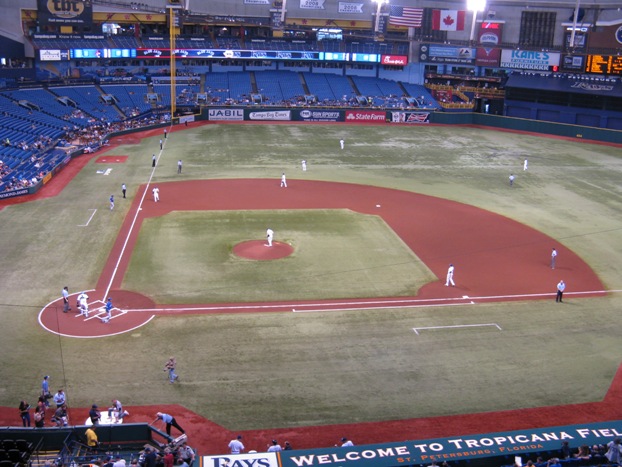 Field view from first base third level.
They did display both the US and CA flags (the Blue Jays were the opponent this game I attended
Not a whole lot of fans at this game. Maybe if there had been it would have warmed up the stadium a bit.
Bullpens are on the field.




Tampa Bay Rays
Americans Best Inn
Looper Trolley
Home Page
Florida Page